CITY OF RUSSELLVILLE
RESIDENTIAL BULK CLEAN-UP
WHEN: May 17, 2023 
Spring Bulk Clean-Up is for RESIDENTIAL customers only!! 
All customers must be located inside the city limits and abide by the following guidelines: 
CLEAN-UP GUIDELINES
All items must be set at the curb by 5:00 a.m.
All items need to be bagged or bundled so 1 person can easily handle them.
All lumber, guttering and other items of length must be tied in bundles and cut in 4 foot lengths so 1 person can easily handle the materials.
All items that fit in a cart need to be in cart with regular service
NO HAZARDOUS WASTE of any kind.
NO LIQUID WASTE of any type such as paints, pesticides, oil, etc.
NO YARD WASTE such as brush, limbs, grass or leaves.
NO CAR PARTS such as tires, motor oil, batteries, etc.
NO WHITE GOODS (refrigerators, stoves, hot water heaters, washing machines or dryers)
NO CONCRETE or large solid items that could damage our equipment. 
ANY ITEMS IN QUESTION WILL BE LEFT BY THE REPUBLIC SERVICES DRIVER. 
IF YOU HAVE ANY QUESTIONS CONCERNING THESE GUIDELINES, PLEASE CONTACT OUR OFFICE AT (573) 635-8805. 
We continue to have problems with the disposal of NON-FLUSHABLES into our sanitary sewer collection system. Lift station pumps become clogged with the material, resulting in extensive time for our operators to pull pumps to remove the clogs. These clogs have also resulted in pumps burning up, requiring immediate replacement. We often require of the services of an outside company to pump out the lift station before the situation can be addressed, adding to the overall cost of the event. The costs for these pumps continue to increase, more than doubling in cost since last year. A typical lift station pump that cost $2-3,000 is now $6,000 or more. The larger pumps in the major lift stations now cost upwards of $12,000. In addition to the impact on our budget, clogging can result in an overflow of the lift station, a violation of Department of Natural Resources regulations as occurred this week. Should this continue to be an issue, your sewer rate could see an increase to cover the excessive costs we have incurred to keep your sanitary sewer system at peak operational capacity. A flyer with additional information is attached for your information. Thank you in advance for your cooperation!
Jan, Mayor Morgan and the Board of Aldermen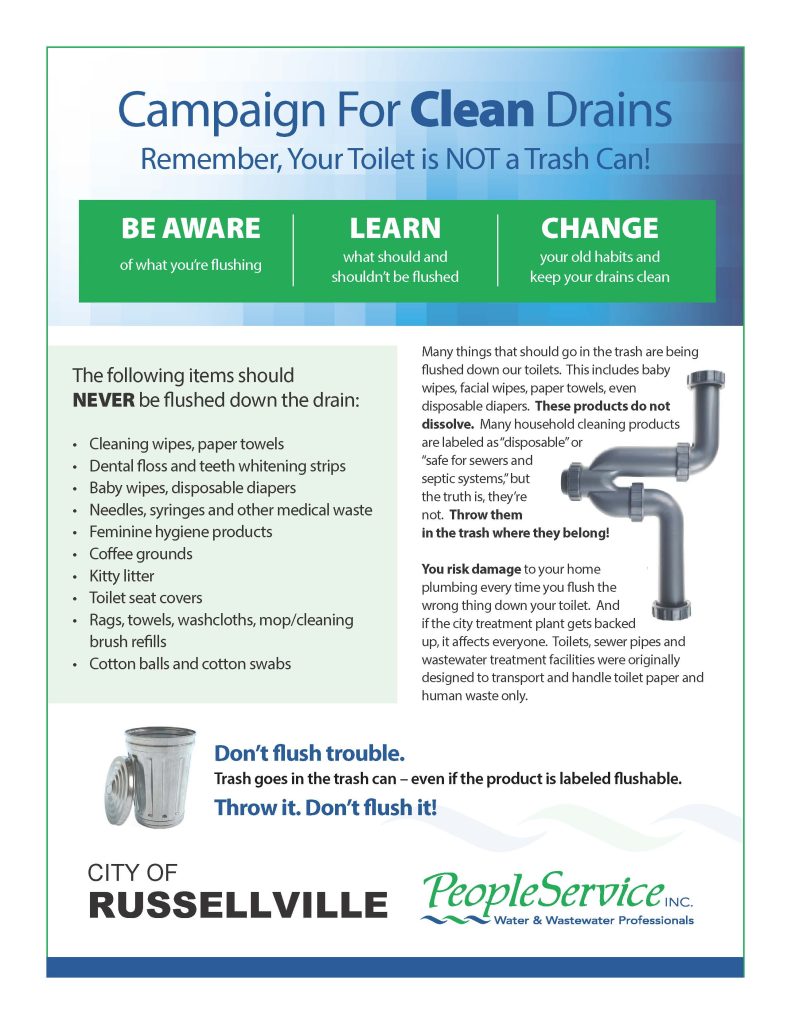 Wednesday evening, West Ward Alderman Ken Bishop and I attended the annual meeting of the Mid-Missouri Regional Planning Commission (MMRPC). The City has been an active member of this amazing organization for decades and relies on their expertise and technical assistance as we navigate through the various funding and regulatory agencies for our public works projects. Executive Director David Bock and his Team are always ready to support us in our continuing efforts to improve our community. Staff prepared the city's Comprehensive Plan; the GIS mapping project (including the new Zoning Map); and the Cole County Five-Year Hazard Mitigation Plan (the city is a part of this plan). They provided grant assistance and administration services for the recently completed Wastewater Treatment Plant (WWTP) project and the Marion Street Stormwater and Repaving project, both funded in part with Community Development Block Grant (CDBG) funds. These projects required formal CDBG grant administration services that MMRPC performed. In addition to these projects, staff assisted with the funding applications for the Sidewalk Improvements Project, recently funded through a MoDOT TAP Grant; and a project to realign the Railroad Avenue/Simpson Street intersection to control traffic flow and improve safety. This project is being funded through the Cole County Small Communities Grant Program. Except for the required CDBG grant administration services, all provided services and technical assistance are paid for through the City's annual dues, with no additional cost to the City. Last night I was awarded a Certificate of Appreciation from MMRPC in recognition of my community development efforts for the city. I was surprised and humbled to receive this award. This means more than I can say, not only for me but more importantly, for the recognition of our community. If you want to learn more about this important organization, please visit their website at: midmorpc.org. Jan